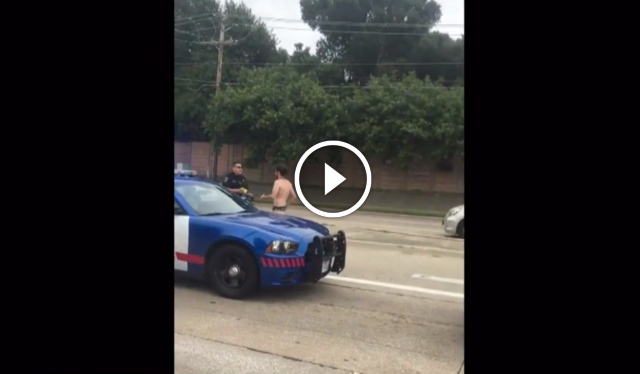 MUSLIM WITH ISIS AFFILIATION ASSAULTS TEXAS COP; DOESN'T GET FAR WHEN 2 BYSTANDERS APPEAR!
This is a story that comes from the "Lone Star State" with the very well-known message – "Don't Mess With Texas". The story starts with an armed individual being reported an aggravated assault by a person that they believed was armed. Pretty soon the Police caught up with him at a stoplight and the person started acting aggressively towards the officer on the scene.
After being tasered the person claiming to be affiliated with terrorist organization of the Islamic State continued to walk towards the officer who managed to keep the situation under control (yes that means not shooting him on the spot for claiming to be a terrorist) and subdue him to the ground. The bystanders rushed to help the officer and helped to get the man handcuffed.
According to Police sources the 22-year-old suspect named Wahib Sadek Hamed, was in position of an AK-47, a shotgun, and a handgun as well as 200 rounds of ammunition in his vehicle.
It sure looks like the police officer along with his civilian "deputies" stopped a very dangerous man from possibly causing a lot of chaos and injury.