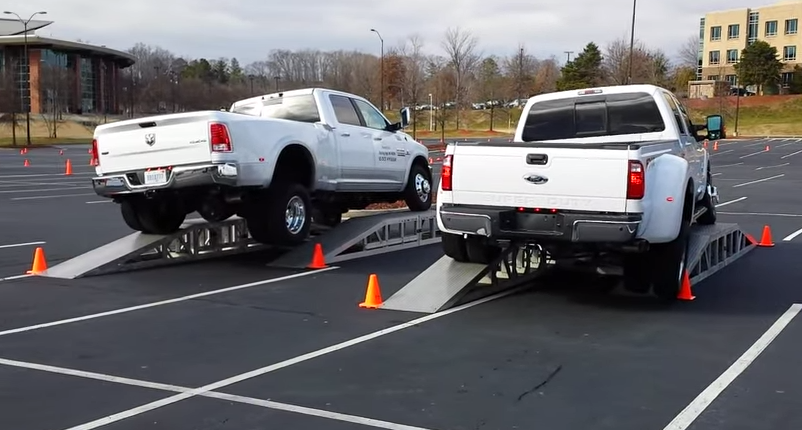 Two powerful trucks in a frame twist test: 2014 Ford F350 vs 2014 Ram 3500!
In the video below posted by Tyler Grant, where we have a 2014 Ram 3500 fighting against a 2014 Ford F350 in one frame twist test. But when he posted it, he got a lot of backlash. So this is his how he responded in a comment:
"When I uploaded this video three months ago, I can say that I was completely unaware, naive almost, to the fierce loyalty that most truck owners have to their preferred brand. Believe me, this video was not meant to slander, insult, or belittle anyone. It was, and is meant to be educational. The fact of the matter is that frames are not supposed to flex or bend – they are what holds things together. Body panels attached to a flexible frame will kink, wrinkle, and spot welds will eventually break. The argument was made that off-road vehicles have frames that flex to help absorb shock. I disagree. Look at trophy trucks, dune buggies, and even dirt bikes. Their frames are all solidly built using beams that make triangles which we all know cannot be deformed by design (bridges are made like this). It is the job of the suspension to absorb the bumps, potholes, crevices, and uneven terrain.
Switch back to road-going vehicles, like these two trucks. Will either of these trucks encounter a situation where the frame will be placed under this kind of stress in an every-day situation? Most likely, the answer is no. The reason vehicles last so long these days is because they are over-engineered to withstand stresses and strains that we consumers will likely never even try. But, isn't it nice to know you can have a vehicle that can and will hold up to this type of stress if or when it is ever called to do so?
On the point of past history that many have mentioned… Every brand of vehicle, especially the "Big Three", have been through their share of substandard quality, lackluster performance, poor dependability, and questionable longevity. Some of you may not be old enough to remember when vehicles coming out of Japan were considered junk. Look at them now. The same can be said of Ram Trucks. That huge departure from the conventional pick-up body style that happened in the earlier 1990's left a lot of truck owners and potential buyers scratching their heads. Transmissions weren't so great, dashes cracked, styling was questionable. But trying to say that new trucks are going to perform and last like models from 10, 15, and 20 years ago is like saying that everything you now know as a 30-year old you already knew at the age of ten.