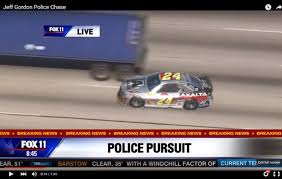 JEFF GORDON POLICE CHASE ENDS WITH A SURPRISING TWIST!
In the beginning of the video it all starts like a normal "everyday" car chase but wait, that's a NASCAR and no other then Jeff Gordon's NASCAR.
You know there is no police cruiser that can keep up with that thing, and at full chant the helicopter would probably have trouble keeping up with that kind of monster.
But as the race car gets of the highway the plot thickens and in seconds the police is all over him and he has nowhere to go.
In order not to spoil the video we will just say, you did not expect that kind of ending to a police chase.