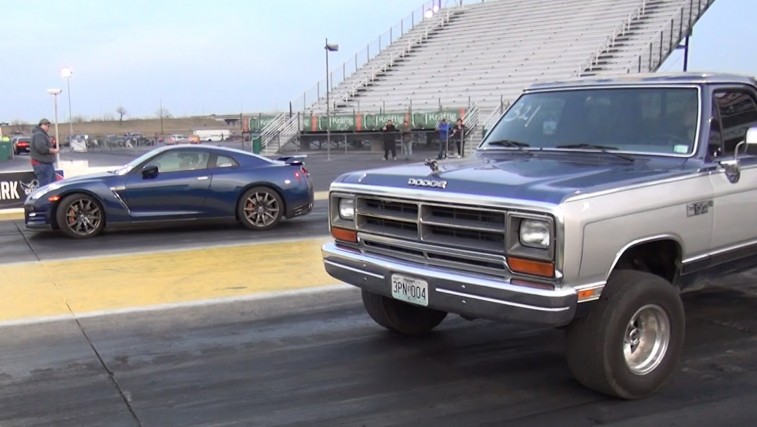 1988 Dodge Ram KILLS A 650hp GT-R and runs 10s!
Grandpa "Ramaro" makes a 10 second run and destroys Godzilla.
For somebody this might sound like a plot to a bad production movie, but here it is a reasonable explanation of the video that follows.
In the left corner, wearing silver and blue trunks, fighting straight out of the farm, we have a 1988 Dodge Ram, "RAMAAAROOOOO".
In the right corner, wearing blue trunks, fighting out of "Stock City" Japan, it's the GT-R.
A classic battle of David VS Goliath since even the birds know by now that the Nissan GT-R is a force to be reckoned with even when its stock.
This does not scare the driver of the 1988 "Ramaro". The truck has a stock LS2 with a Precision PT8891 CEA Billet Ball Bearing turbo running on 8psi boost, exchanging heat thru an A2W intercooler. Additionally it is sprayed by a Nitrous Outlet kit jetted for 100 shot.
There are however a lot of talk on how the staging lights were on for too long.
This has no effect on the Ram, but the GT-R has a problem with it. A big one. In the name of self preservation, the GT-R's launch control disables after about 4 seconds. This has resulted in an equivalent of a Samurai coming to do battle without his Katana, so the vehicle raced without its main weapon, the launch control. This can be confirmed by the poor 0-60 time as you can see the GT-R struggling to get of the line.