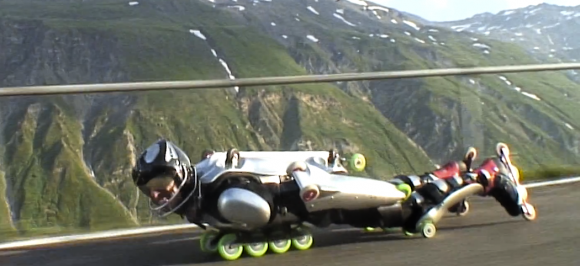 A New Superhero Rises: Rollerman Races Down the Roads!!
We are actually not sure how to begin to describe this one, as we are not sure what this is either.
He calls himself "Rollerman" and his suit, or should we say ride, looks like Robocop fell into a pool of wheels and some of them kinda stuck to him, so now he has to make do with wearing them and using them at the same time.
Well be that as it may, this is Jean-Yves Blondeau, who strapped 31 wheels on his suit and is now capable of showing us one of the craziest ways to move thru traffic or down a mountain that we have ever seen.
This French daredevil has been working on his suit for nearly 23 years and says this thing is now complete.
Not sure about how many times he has crashed using this form of transportation but if it suits him, well then he can roll all he wants, all you have to do is play the video bellow and see how he does it.