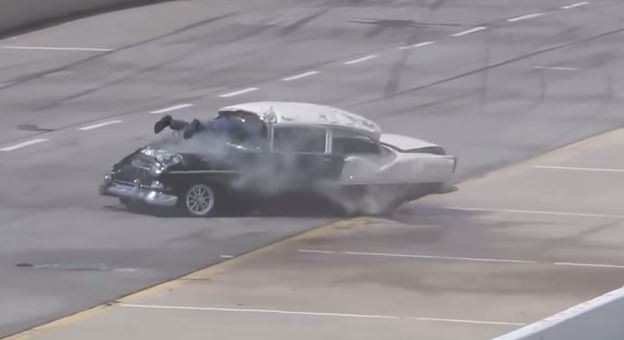 The driver of this 1955 Chevy Bel Air is lucky to be still alive!
In this drag race at the Pikes Peak International Raceway we have one fateful and almost fatal situation. When the race started, the
Chevy Camaro
started to go dangerously left and right.
It is amazing how the driver of the Chevy Camaro manages to wrestle the torque back into line and even to finish the drag race. But the driver of the 1955
Chevrolet Bel Air
in the near lane doesn't have the same luck. In order to avoid collision, the driver whips to the outside. But when he tried to get straight again, the car went rolling out of control and he overcorrects. It rolls 4 times before sliding on its nose and drops back down on all tires. The legs of the driver lay on the bonnet through the windshield.
It is really amazing when you see how the driver retracted his legs and free himself from the Chevy. We are so happy that the driver of the Chevy survived the crash, but we can't say that for his Chevrolet. Check out the video to see the crash.