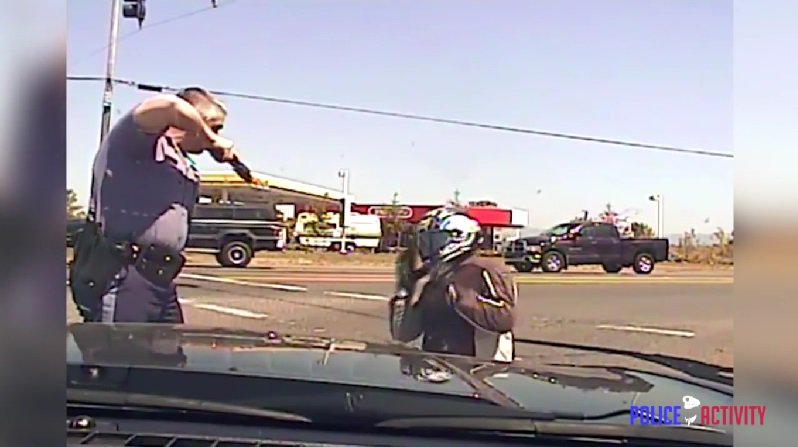 Oregon Rider Wins $180,170 Court Case!
In case you have trouble remembering the incident from 2012 let us refresh your memory; -A biker named Justin Wilkens was going down the road when a certain Police captain got so carried away in his duty that he first rammed the biker after the biker has clearly stopped, knocking him of his bike, and then once the captain got out of the vehicle, he kicked the rider in the chest while pointing a gun at him and throwing him on the ground. Lucky for the biker the whole incident was caught on the police dashcam.
Now if you watch the video from back then, it is apparent that the biker is breaking the law, he is passing illegally he is speeding and is driving recklessly. The police vehicle that the police captain Robert Edwards was using was unmarked and the officer did not use sirens, this is why the biker did not pull over for a few minutes.
The police officer did not know that the camera on his vehicle was operational so once the matter came to court and the video was presented, the biker was awarded with the total of $180,170 in damages, with the first increment of $31,171 being a payment for covering his medical bills and the damage that his bike sustained, another increment of $100,000 for his pain and his suffering, and additional $50,000 being awarded for punitive damages. The officer tried to claim that the police car suffered brake fade due to heavy brake use during the pursuit so him hitting the biker was an accident, the court did not fall for this so they dismissed his defense. What do you think, do you agree with the court that the officer use excessive force, or is the biker to blame?