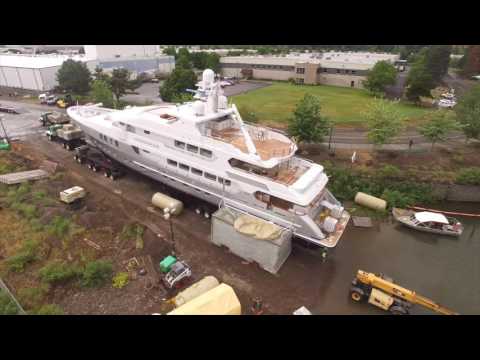 The Process Behind A 800,000 LBS Yacht LAUNCH! It's Not Simple At All!
Once vessels like this amazing yacht are built in the Christensen Shipyards in Vancouver, they need to find their way from the factory to their natural environment, the water.
You would think that this would be a simple process of dumping the yacht in the water, but once you found out that this yacht brings 800,000 lbs to the scale, you know that there are bound to be some complications.
Apparently the guys that are doing this are professionals and their crew brings the enormous 160 feet long luxurious vessel to the water with the help of a big Mack truck with now problem.
In order to make sure that there is no damage to this expensive yacht, the process is painfully slow and it takes them half a day to do it but in the end, the beautiful boat which is designed to entertain 12 guests at the expense of $250,000 a week gets to the water in perfect condition, check it out.