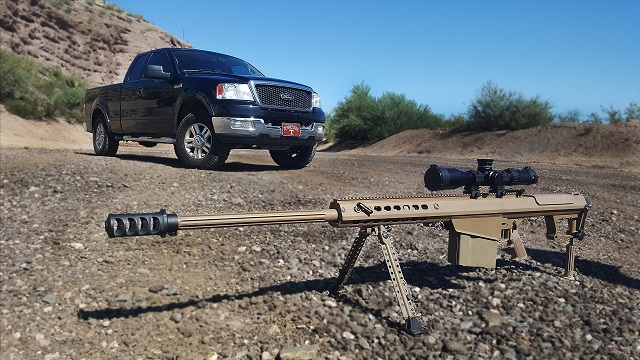 CAN THIS 50 CALIBER BULLET STOP A FORD'S RUNNING V8 ENGINE?
The .50 caliber rifle was originally designated as an anti-materiel rifle but it is also used by some armed forces as an anti-personnel sniper rifle. This rifle fires one of the biggest and most destructive rounds of them all. According to some sources a sergeant in the 2nd ranger battalion neutralized the enemy using this weapon during the Iraqi conflict over a distance of 2300 meters (2515 yards).
Today, instead of using it to dismember an insurgent or a terrorist, this weapon will be used against a Ford F-150. During this "friendly fire" exercise the goal will be to see if this "cannon" can stop the engine dead in its tracks.
In order to increase their chances against the unsuspecting truck, FullMag decided to use an armor piercing incendiary rounds that are designed to punch thru walls body armor and other protective measures.
Although the round pierces the engine, the truck is still running. But that's as far as good news go for the truck. Upon putting it in gear, the truck stalls and does not want to move. Watching the video might make car enthusiast to shed a tear for the poor truck but that's life. Watch the video and tell us your opinion of how the truck stood up to the big gun.