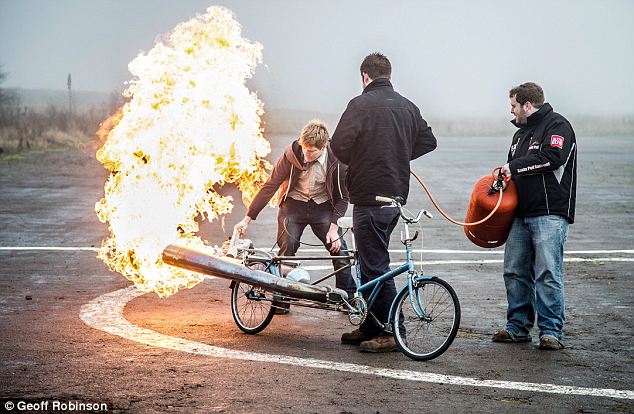 This is the most dangerous unsafe bike – The Jet Bicycle!
Colin Furze, the British garage inventor as he described himself, built one
amazing jet bike
. He admits that it is dangerous, the most dangerous unsafe bike ever. In the video you can see that the open flames get just too close to the fuel tank. Then you will notice that the location of the fuel tank later in the video has been changed, to make it safer maybe.
Colin has broken the Guinness World Record for the largest bonfire at 49,497 square feet, the fastest speed on a scooter at 71.59 MPH, and the longest motorcycle – 46 foot 3 inches. And maybe his proudest creation was the fastest baby carriage in the world.
Watching the video, you will also notice that this guy is not even wearing a helmet or fire suit.
We hope that his rides won't end up in some serious injury or even worse.