Meet the 1961 Chevrolet Impala!
One wise man said once that only brave people can build a car by themselves. We don't know that man but we know that he was surely right. That is a long and exhausting process that asks loads of stubbornness and time.
Hann Todd in 2001 looked for a new project. Todd met his friend Jerry accidentally, who had recently bought a Chevelle. He knew what he wanted to do and fortunately his friend Jerry has an 1961 Chevy that was in a complete drivable condition.
The 1961 Chevy Impala was in reckless condition, but it fulfilled the essential criteria so he bought it. And then he started repairing it. After he stripped everything down, he hired professionals for a Strange nine axle, coilovers, 3×2 complete boxed frame, pinion, tubular control arms at the front and rack steering as well as a 4link suspension at the rear end. The brakes from Wildwood were put after the wheels from Center Line convo pro. The size of the front wheels is 15 x 5 and the rear 15 x 14.
When the hood was rust free finally, a brand new chassis and a Pro street theme were added. Some additional changes were made in order to completely fit the parts mentioned above. The floor was removed and the body was lowered over the chassis. The engines and the transmission were subjected under many test lifts, making a space for the installing of the cage. After that the guys went out searching for more parts.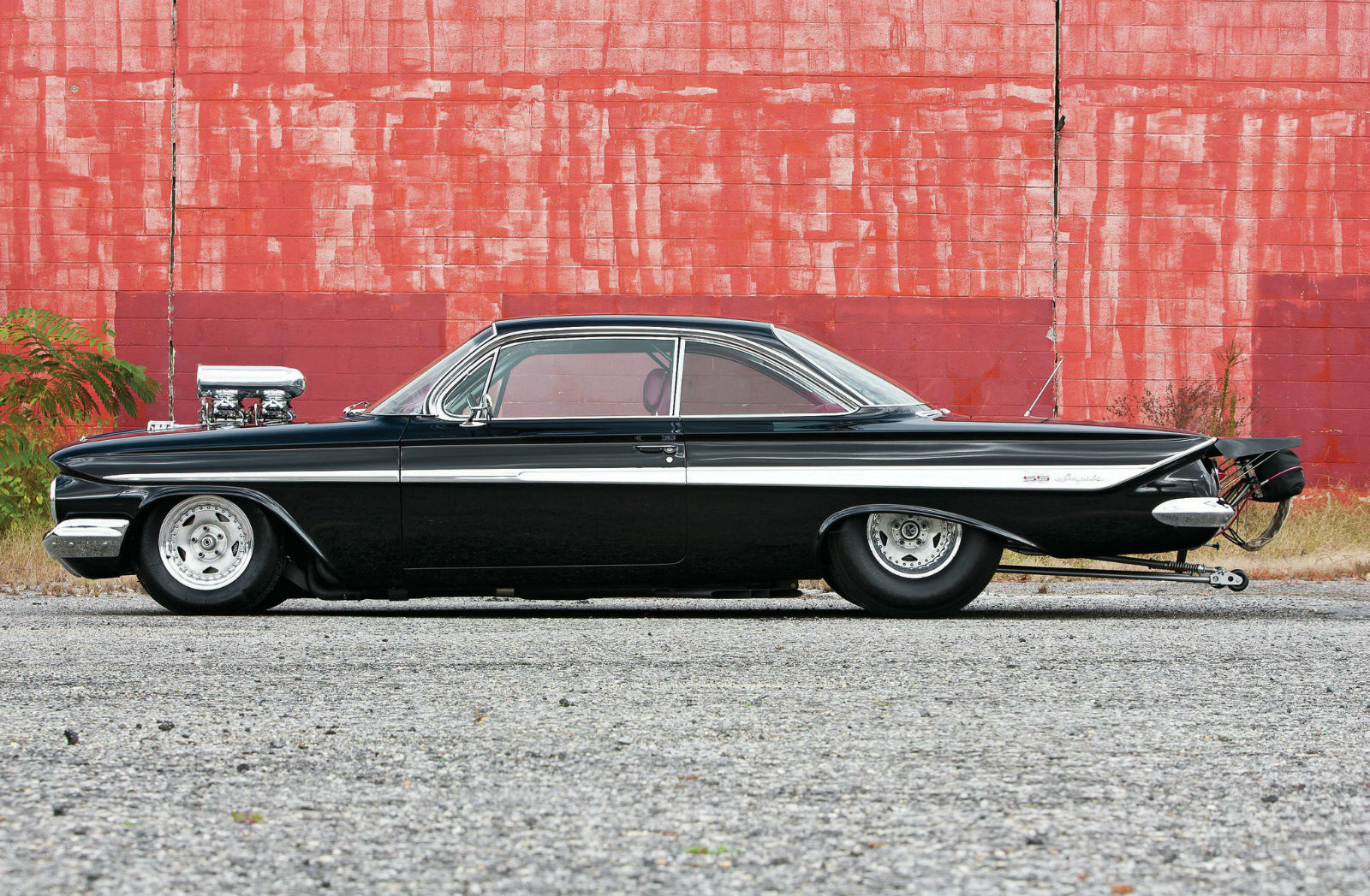 The 3rd and the 4th year the body and the hood as a whole were coming together.
After 6 years the vehicle was once again torn apart. After that, some of the components and the roll cage were subjected under powercoating, and the reassembling was in order. At the 8th year, the project was once again canceled.
The Rat 461 was then reassembled again, with the adding of rectangular port heads made from iron and roller valvetrain from Comp Cams. 750 cfm carbs from Holley and also BDS lower intake were added up top. TH400 was behind together with an overdrive unit that comes from Gear Vendors. This combination showed itself and when the bodywork was finished it was time for priming, paintings and loads of blocking.