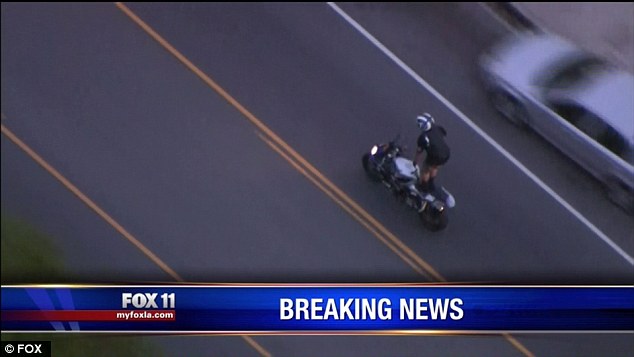 Biker took selfies and stood up while fleeing Highway Patrol in 100 mph chase through the streets of Los Angeles
Just when you think you have seen it all, then somebody goes and does this. Now we have to admit while extremely dangerous, police chases are very entertaining to watch. We have seen them crash get their tires punctured and shot at, we have seen police use the pit maneuver, we have seen them leave the vehicle and continue on foot but we must admit we have never seen somebody do this.
One of the things you would probably never expect to see in a police chase is a biker taking selfies.
Well this one did it, after pulling a couple of seat stands it appears he slowed down to talk to the officers on bikes in pursuit before he took off again.
I hope we can find the selfies he took, those would be pretty cool I guess.
According to the information after a while he stopped at a gas station and surrendered himself.