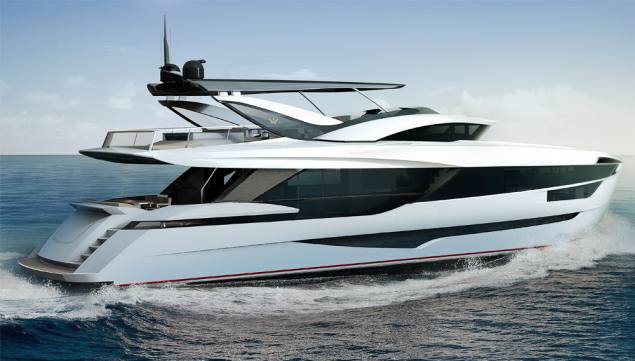 The debutante 87-foot Hybrid Ilumen from Dominator Yachts
At the annual Cannes Yachting Festival in September, the Dominator Yachts presented the D26 Ilumen. That is an 87 foot semicustom model that uses hybrid propulsion. This yacht took 2 years to develop and presents specifications that are really promising, both in terms of performance and design.
The four power modes range from pure electric that engages the electric engines and allows the yacht to travel quietly at speeds up to 6 knots, to electric and diesel, and that engages both the electric and diesel engines and it reaches a top speed of 26 knots. This yacht can travel more than 3,400 miles at a long-range cruise speed of 8 knots before to be refueled. That is a range more often delivered from yachts twice its size. The hull of the Ilumen is built from carbon composite that reduces the weight and increases the rigidity. That helps to cut through waves and maintain a very comfortable ride. This multilayer hull is reinforced in order to reduce the onboard noise.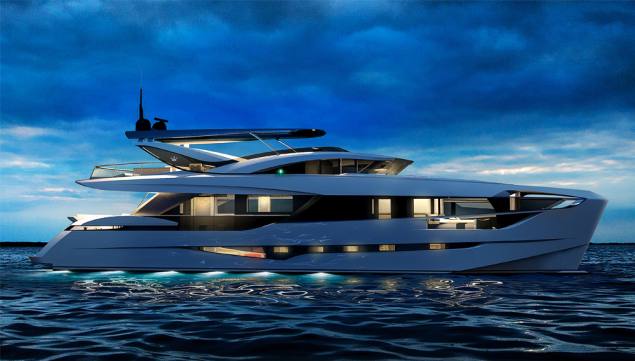 The design of the yacht is by a young Italian designer named Alberto Mancini, and he is the responsible man for many of innovative yachts that are launched in the last few years. For example, the full-beam master suite measures more than 320 square feet. It is placed on the main deck toward the bow and also it is highlighted by a forward panel of floor to ceiling windows that slide open to one private terrace at the bow. The suite also has a large sliding sunroof, so the occupants can sleep beneath the stars.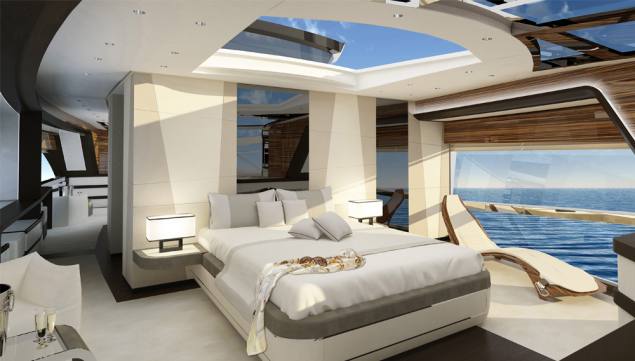 The flybridge is big for a yacht this size, together with a bar, hot tub, padded lounge area, dining table, retractable sunroof and helm station. The yacht's saloon, in an effort to make the illusion and imagination of extra space and to provide ample light, has floor-to-ceiling windows aft and at the sides. The stern door, at water level, folds down in order to create a swim platform and an interior lounge area. Beach clubs just like this one have become famous amenities aboard megayachts, but they are not often seen on sub-100-foot boats. The Iliumen, below deck, can be equipped with two guest cabins and either one full-beam VIP suite and two larger cabins.
The Ilumen like all Dominator yachts, can be customized with virtually any furnishings and materials to suit the taste of the owner of the yacht. This initial design call for backlit onyx, silk and zebrano, among other materials. The Vienna-based Italian shipyard has not yet discovered the price for the Ilumen or the launch date for the first example.