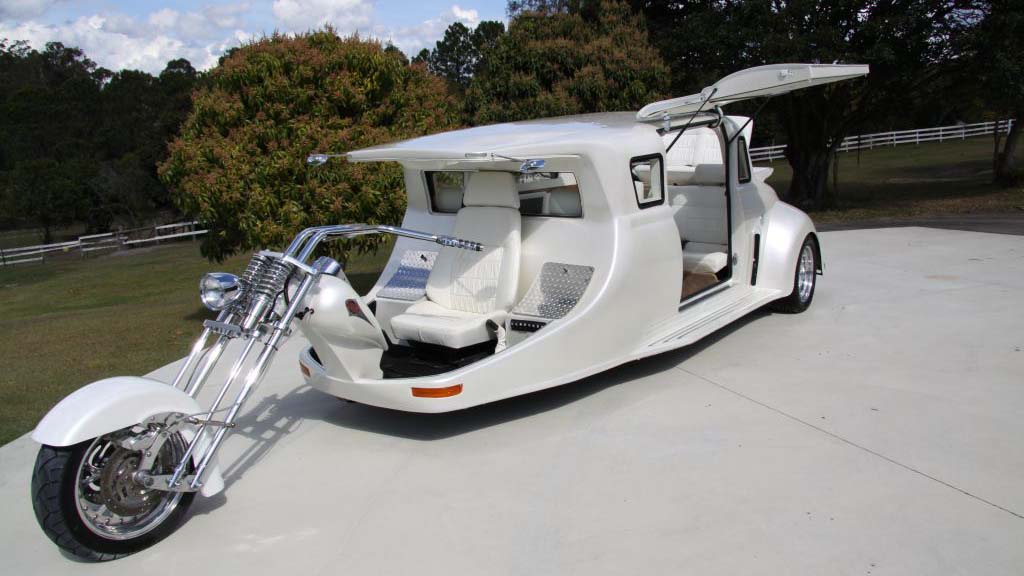 Unique Harley Davidson Limo-Bike that will take your breath away!
Here you can see this amazing Harley Davidson Limo-Bike that is very intriguing. This vehicle is a mix of a bike and a limousine and it looks strange for sure. It is 7 meters in length and 1.75 tons of steel, it utilizes the front of a motorcycle, but the other part there is a limousine.
This limousine offers comfort seats in order to drive around 8 travelers that can have the joy like they are in a normal limousine. This thing has a cooling system, a bar of jarrah wood, tinted windows, electrically worked windows, a stereo framework, and a champagne cooler for full satisfaction.
You can open the doors vertically. But, the part that is most interesting is that this thing is controlled with 5.7 liter V8 Chevy engine that delivers 350 horsepower. Check out the following video to see this customized bike, and also share your opinion with us about this unique machine. Also, you can share this video with your friends, so they can see this unique creation. Enjoy the video!